Business WiFi & Network Infrastructure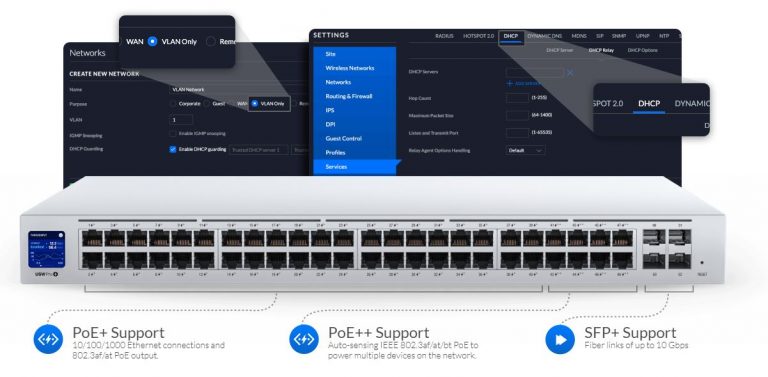 UniFi
UniFi equipment and controllers are powerful enterprise solutions ideal for high-density client deployments requiring low latency and high uptime performance. With its hardware-based capabilities, UniFi equipment allows for unlimited scalability under one centralized controller. It is simple to remotely access the UniFi Controller to upgrade deployed UniFi APs while in the field.
Unifi switches are fully customizable through the controller and provide full line rate traffic forwarding through all the ports without packet loss. We have experience with PoE installations which involve VOIP equipment as well as fiber optic connectivity.
Unifi wireless Access Points feature the latest Wi-Fi 802.11ac technology in a refined industrial design and is ideal for long-range deployment of high performance wireless networks. It is scalable for every small business environment and extremely cost effective.
Unifi gateways and firewalls extend the UniFi Enterprise System to provide cost-effective, reliable routing and advanced security for your network. These devices offer advanced firewall policies to protect your network and its data and can create virtual network segments for security and network traffic management.
SonicWall
SonicWall next-generation firewalls give you the network security, control and visibility your organization needs to innovate and grow quickly. Their award-winning hardware and virtual firewalls integrate tightly with a broad range of products, services and technologies to create a complete high-performance security solution that scales to fit your needs. Our technicians are Sonicwall Certified and know how to properly optimize these devices. They represent a high-performance integrated threat prevention platform for small/medium organizations.